Probate
Probate, or the administration of a deceased person's estate, can be complicated and daunting, with confusing jargon and seemingly incomprehensible documents. We are here to help you through this process, bringing clarity, experience, expertise and reassurance.
Whether or not there is a Will and whether or not you have acted as an Executor previously, we can guide and assist you through the process of gathering information, completing forms, obtaining the Grant of Probate, gathering in the estate and distributing the estate to the beneficiaries.
We have many years' experience in handling estates of significant complexity, including the following:-
Estates where there are extensive gifts to charity, including where charities have been dissolved, re-named or merged.
Estates where there is no Will and complicated legal rules apply as to the distribution of the estate.
Wills that are incomplete or imprecise that require interpretation.
Complicated estates with business, agricultural or overseas assets.
Beneficiaries of unknown whereabouts that require tracing.
There are often significant tax compliance matters to attend to, including bringing lifetime tax affairs up to date, reporting to HMRC on the tax issues relating to the period of the administration of the estate and advising beneficiaries of the taxation of the benefit they are receiving from the estate. We will ensure that all such matters are dealt with promptly and precisely, liaising with accountants and other professional bodies where necessary, ensuring everything is resolved fully and completely.
Unfortunately Probate is not always a smooth process. There might be disappointed beneficiaries, problems in relationships between various parties, or even challenges to the validity of the Will. We can assist in navigating through all of these issues while doing our utmost to resolve difficulties without recourse to costly and time consuming court proceedings.
We always carry out our work and provide our advice with compassion, sensitivity and thoroughness.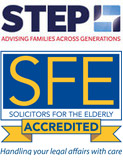 At K J Smith Solicitors, our private client team are members of the Society of Trust and Estate Practitioners (STEP), an internationally recognised organisation whose members consist of accountants and lawyers and who are specially qualified to advise on and assist with Private Client matters.
Our private client team are also members of Solicitors for the Elderly (SFE) a specialist group of lawyers who are qualified to advise more elderly clients on matters of particular concern to them.
We offer a free initial 30 minute appointment in one of our offices to give you the opportunity to meet us, before deciding if you wish to proceed in instructing us to act on your behalf.
Please contact K J Smith Solicitors today on 01491 630000 (Henley on Thames), 020 7070 0330 (London), 0118 418 1000 (Reading), 01753 325000 (Windsor), 01256 584000 (Basingstoke), 01483 370100 (Guildford), 01494 629000 (Beaconsfield), 01235 375500 (Abingdon) or email info@kjsmith.co.uk.
We have offices in Henley-on-Thames, London, Reading, Windsor, Basingstoke, Guildford, Beaconsfield and Abingdon but we service clients in the surrounding areas including Gerrards Cross, Maidenhead, Marlow, Oxford, Slough, Wokingham, and High Wycombe.