Trusts
There are a number of reasons why you might wish to set up a Trust. You might want to provide for your children, grandchildren and other relatives, while retaining control over the money or assets in question.
You may want to use a Trust for Inheritance Tax planning. You might want to shield assets or wealth from exposure to care costs, or as a way of providing for someone.
We can assist you with the creation and running of a number of different types of Trust, whether simple or complex, short or long term, including registering the Trust with HM Revenue & Customs and dealing with the ongoing administration of a Trust. These tasks include Annual Trust Accounts, Annual Trust Tax Returns, Drafting Trustee minutes, resolutions and appointments (distributions from the trust) and winding up a trust when it comes to an end.
The types of trust we can assist on include:-
Discretionary Trusts.
Pilot Trusts.
Life Interest Trusts.
Personal Injury Compensation Trusts.
Protective Trusts (for the profligate or disabled).
Trusts of Property.
Trusts of Pension or Death in Service Benefits.
Lifetime trusts and trusts created by a Will.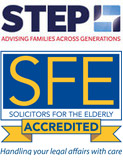 At K J Smith Solicitors, our private client team are members of the Society of Trust and Estate Practitioners (STEP), an internationally recognised organisation whose members consist of accountants and lawyers and who are specially qualified to advise on and assist with Private Client matters.
Our private client team are also members of Solicitors for the Elderly (SFE) a specialist group of lawyers who are qualified to advise more elderly clients on matters of particular concern to them.
We offer a free initial 15 minute telephone appointment to give you the opportunity to speak to us, before deciding if you wish to proceed in instructing us to act on your behalf.
Please contact K J Smith Solicitors today on 01491 630000 (Henley on Thames), 020 7070 0330 (London), 0118 418 1000 (Reading), 01753 325000 (Windsor), 01256 584000 (Basingstoke), 01483 370100 (Guildford), 01494 629000 (Beaconsfield), 01235 375500 (Abingdon) or email info@kjsmith.co.uk.
We have offices in Henley-on-Thames, London, Reading, Windsor, Basingstoke, Guildford, Beaconsfield and Abingdon but we service clients in the surrounding areas including Gerrards Cross, Maidenhead, Marlow, Oxford, Slough, Wokingham, and High Wycombe.