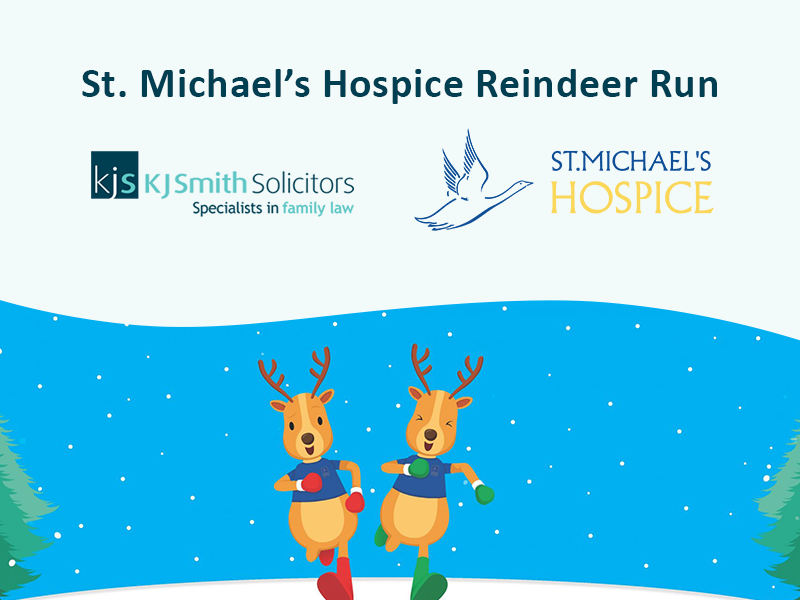 We are delighted to be offering our support to St Michael's Hospice in the form of sponsorship for the hospice's Reindeer Run, a brand new event taking place on Sunday 19th December 2021.
Our Basingstoke team, led by Jennifer Murray, will also be participating in the run and are joined by friends and family. The team has set a fundraising target of £500.
St Michael's Hospice provides wonderful support for patients in need of end-of-life and palliative care in the North Hampshire area. The hospice, whilst receiving funding from the NHS and help from the government, relies heavily on fundraising efforts and personal donations to continue providing its excellent service.
Support by way of donations allows the charity to provide some of the following services:
£20.00 - Cost of 1 nurse for 1 hour
£30.00 - Cost of Physiotherapy or Occupational Therapy session
£135.00 - Cost of drugs for 1 day for 1 patient
£685.00 - Cost of pharmacist per week to dispense and ensure effective medication
If you would like to get involved, head to the St Michael's Hospice website to provide a donation or sign up for the event: Get Involved - St Michael's Hospice (stmichaelshospice.org.uk).
The route starts at Festival Place before looping around Eastrop Park on its way back into town to the finish line. The event will be filled with lots of family-fun activities, from face painting to finish line goodies, not to mention that each participant will be sporting their own pair of reindeer antlers!
St. Michael's Hospice (North Hampshire) enables anyone faced with a life-limiting illness, their families and carers, to attain the highest possible quality of life by providing a choice of specialist care and support. You can find out more about the great work of St. Michael's Hospice here: https://www.stmichaelshospice.org.uk/