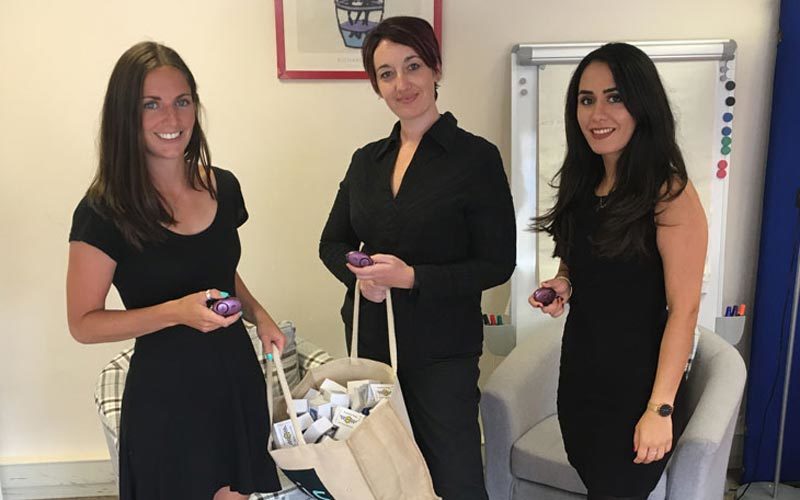 Pictured above, from left to right: Rachel Duffy, RASASC Community Engagement Officer with Emma and Robyn
Emma Sanders and Robyn Karimaghaee visited the Rape & Sexual Abuse Support Centre (RASASC) in Guildford earlier this week to deliver our donation of 100 personal attack alarms.
RASASC do amazing work in and around Guildford, providing a helpline service, counselling, ISVA Independent Sexual Violence advice, awareness talks and community schemes including a free survivors cycle scheme aimed at helping survivors of rape and sexual abuse regain their confidence.
Emma, who is a Paralegal at our Woodley office commented, " It is reported that approximately 85,000 women and 12,000 men are raped in England and Wales every year. This means that every hour 11 people become victims of rape or attempted rape by strangers or someone they know and trust. The work of Rape Crisis is vital to the victims who seek their support, without these amazing charities victims could be left with no one to support them in the weeks, months and years following these horrific crimes ".
You can learn more about the great things RASASC are doing at: www.rasasc.org.
K J Smith Solicitors are recognised by the Legal 500 guide to law firms in the UK as a Leading Firm. We offer free 45 minute consultations and in depth advice on all aspects of family law, including Finances and Divorce, Children and Residency, Nuptial Agreements, Grandparents' Rights and Cohabitation Agreements. We also offer Wills, Trusts and Probate services.