Emma Sanders and Tiffany Constable, both from our Woodley office, visited Berkshire Women's Aid in March to deliver a large donation of items for the charity's refuge in Reading.
Berkshire Women's Aid work throughout Bracknell, Reading and Wokingham and are affiliated to the Women's Aid Federation of England (WAFE). They provide advice, support and refuge services to victims of domestic abuse together with information and education on the subject to make the case for effective action against domestic violence, intimidation and psychological abuse.
Emma Sanders, who is a Paralegal at our Woodley office commented, "While working as an Independent Domestic Abuse Adviser I saw first-hand how domestic abuse victims and their children are often forced to leave their homes with none of their belongings. When K J Smith asked if I wanted to be involved in supporting our local refuge I knew that this was a great opportunity to help in a small way, so we put together an array of items for donation which included 1000 nappies, 30 Easter Eggs, toiletries, clothing and food, all of which I somehow managed to fit into my mini! Dropping everything off at the refuge was really emotional, sometimes we forget how lucky we are. These ladies and their children have been through a horrendous ordeal and I hope the bits we gave them make things just a little easier".
You can learn more about the great things Berkshire Women's Aid do at: www.berkshirewomensaid.org.uk.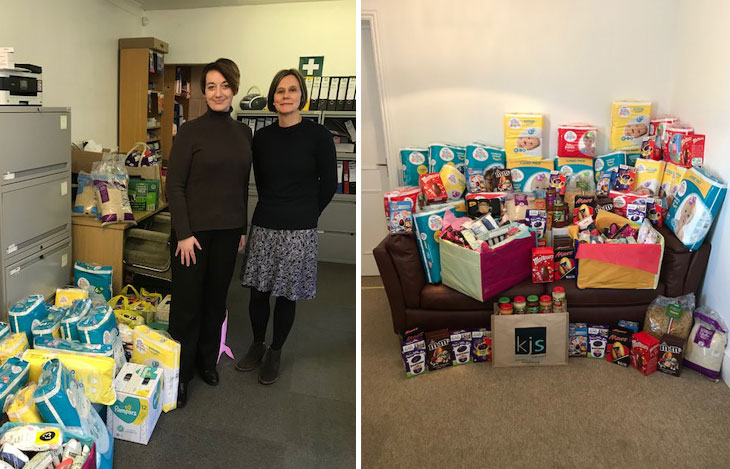 Pictured above: Emma with Helen from the charity
K J Smith Solicitors are recognised by the Legal 500 guide to law firms in the UK as a Leading Firm. We offer free 45 minute consultations and in depth advice on all aspects of family law, including Finances and Divorce, Children and Residency, Nuptial Agreements, Grandparents' Rights and Cohabitation Agreements. We also offer Wills, Trusts and Probate services.