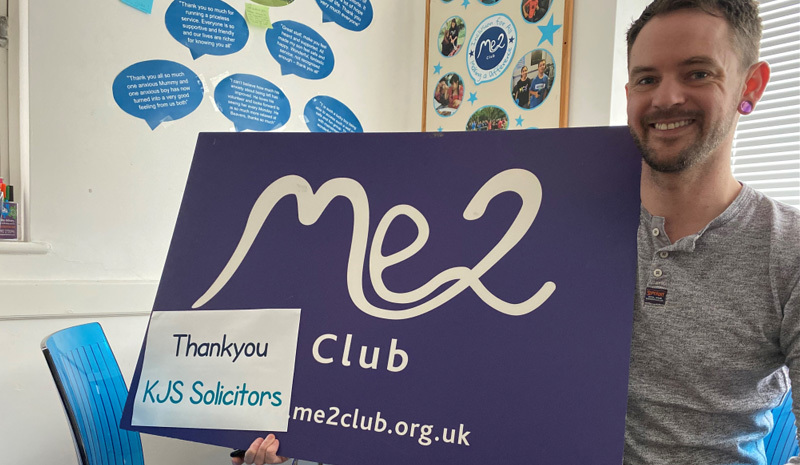 Our Woodley office have donated £1000 to Me2 Club, a charity that we have supported for a number of years, to assist with their new online session initiative.
The weekly online sessions offer their children a varied programme of activities from arts, crafts and games as well as physical exercise, with the charity working in partnership with local sport providers.
Shaun Polley, CEO at the charity, commented "I want to thank K J Smith Solicitors for their generous donation to our Covid-19 Response appeal. Every week our team of Activity and Volunteer Coordinators deliver online sessions for children that help them to develop their social and communication skills while having fun and making friends. This time also provides valuable respite for parents and carers. The donation will help make sure that we are able to continue providing free online activities for children and young people while their usual weekly activities have been paused."
Me2 Club support young people by encouraging them to be independent, participating in activities alongside them and adapting activities to ensure they can take part. In 2011 Me2 Club were awarded The Queen's Award for Voluntary Service. The Queen's Award is the highest award given to local volunteer groups across the UK to recognise outstanding work done in their own communities. You can get more information on the fantastic work Me2 Club do in our community on the following link: http://me2club.org.uk/.
We offer a free initial consultation to give you the opportunity to meet us and find out more before deciding if you wish to proceed in instructing us to act on your behalf.
Please contact our team today on 01491 630000 (Henley on Thames), 0118 418 1000 (Reading Head Office), 0118 418 1200 (Reading Central), 01256 584000 (Basingstoke), 01483 370100 (Guildford), 01494 629000 (Beaconsfield), 01344 513000 (Ascot), (01635 785 100) Newbury, 01962 587900 (Winchester), 0204 599 7400 (Richmond) or email info@kjsmith.co.uk.
We also serve a wide range of other areas including Abingdon, Bracknell, Gerrards Cross, Maidenhead, Marlow, Oxford, Slough, Wokingham, Pangbourne, and High Wycombe.