Amanda Phillips-Wylds, Head of our Windsor Office was pleased to support Rhiannon Ford Divorce Consultancy at the Surrey Digital Awards 2018. Rhiannon picked up the award for Best Use of Social Media for Business, beating some very tough competition. She was commended for her ability to use social media to deal with such a sensitive subject and for providing individuals with access to support during a very difficult time.
Rhiannon works with clients who are contemplating, currently going through, or have been through divorce or separation, providing them with emotional support and practical guidance. Amanda has known Rhiannon for a number of years and feels Rhiannon provides an invaluable service to her clients.
Speaking about the achievement, Amanda commented, "I have seen a number of clients who have used or continue to use her services. I can honestly say there is a world of difference in taking instructions from a client who has had the benefit of Rhiannon's advice and assistance to a client who has not. I have found that Rhiannon's clients are far more able to provide a concise and relevant account of their present position and articulate their instructions clearly and confidently; it is a pleasure to work with her."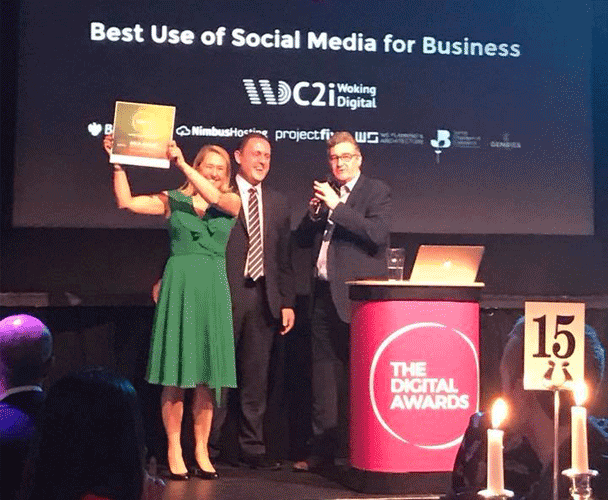 Pictured above: Rhiannon Ford at the Surrey Digital Awards 2018
To learn more about Rhiannon's services you can take a look at her website and award winning social media pages at:
www.facebook.com/RhiannonFordDivorceConsultancy
www.linkedin.com/in/rhiannonford
K J Smith Solicitors are recognised by the Legal 500 guide to law firms in the UK as a Top Tier Firm. We offer free 45 minute consultations and in depth advice on all aspects of family law, including Finances and Divorce, Children and Residency, Nuptial Agreements, Grandparents' Rights and Cohabitation Agreements. We also offer Wills, Trusts and Probate services.