In these very unpredictable times, it seems more important than ever to have a valid Will in place.
Other than a few specific scenarios, a valid Will requires the Will-maker to sign the Will in front of two adult non-family witnesses.
Given the need for social distancing, self-isolation and the possibility that the Coronavirus may be able to survive on paper for up to 12 hours (meaning it could be transferred person to person just by handling a Will) - you can imagine that witnessing a Will is quite a challenge at the moment.
Well, luckily, we at K J Smith Solicitors love a challenge!
Our expert Estate Planning and Wealth Management lawyers saw this problem as an opportunity to flex their creative problem-solving muscles. The result: "Window Witnessing your Will".
The steps are as follows:
We take all normal steps to prepare your Will on your behalf.
When the Will is drafted and sent to you, you remain inside your house and two witnesses (such as friends or neighbours) remain outside.
You hold the Will to the Window to enable the Witnesses to view it.
You then sign the Will, preferably using your own pen and wearing gloves.
The Will is passed through the open Window to the witnesses whilst maintaining a two-metre safe distance.
The Witnesses also ensure that they maintain a two-metre safe distance from each other.
Each Witness signs the Will - preferably with their own pen whilst wearing gloves.
The signed Will is then placed in a sealed envelope and the gloves are removed.
The envelope is then returned to K J Smith Solicitors in the post for safe keeping.
If you would feel more comfortable having your lawyer present to supervise the process via video call, please speak to our team.
A team you can trust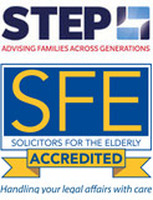 At K J Smith Solicitors, our Estate Planning & Wealth Management team are members of the Society of Trust and Estate Practitioners (STEP). This is an internationally recognised organisation whose members consist of accountants and lawyers and who are specially qualified to advise on and assist with Estate Planning & Wealth Management matters.
Our Estate Planning & Wealth Management team are also members of Solicitors for the Elderly (SFE), a specialist group of lawyers who are qualified to advise more elderly clients on matters of particular concern to them.
We offer a free initial 15 minute telephone appointment to give you the opportunity to speak to us about our Will writing services, before deciding if you wish to proceed in instructing us to act on your behalf.
Please contact K J Smith Solicitors on 01491 630000 (Henley on Thames), 0118 418 1000 (Reading Head Office), 0118 418 1200 (Reading Central), 01256 584000 (Basingstoke), 01483 370100 (Guildford), 01494 629000 (Beaconsfield), 01344 513000 (Ascot), (01635 785 100) Newbury, 01962 587900 (Winchester), 0204 599 7400 (Richmond) or email info@kjsmith.co.uk.
We also serve a wide range of other areas including Abingdon, Bracknell, Gerrards Cross, Maidenhead, Marlow, Oxford, Slough, Wokingham, Pangbourne, and High Wycombe.