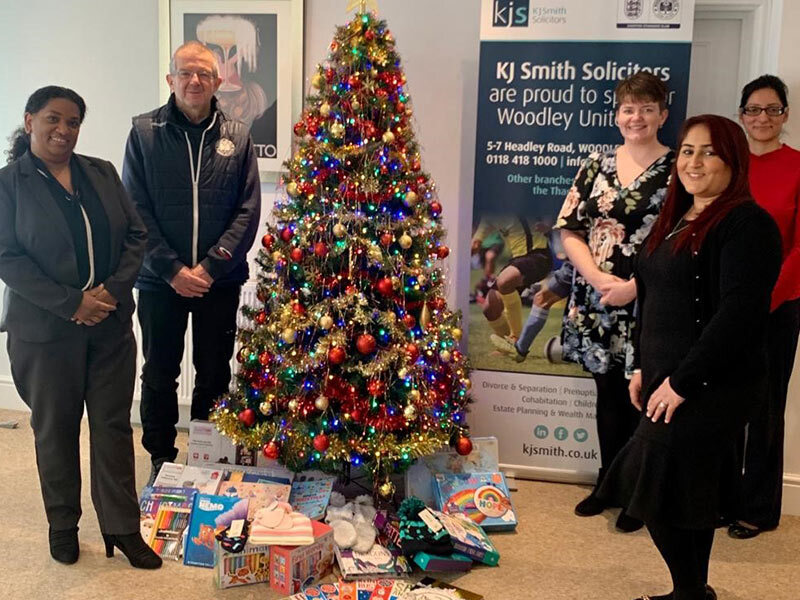 Our Woodley team with Mark Rozzier, General Manager at Woodley United FC
Our Woodley team took part in the Woodley United and Roc-Search Toy Appeal, in support of Reading Family Aid, collecting toys for disadvantaged families. Reading Family Aid deliver toys to children who would otherwise receive no gifts on Christmas day.
When contacted to see if we could help, our Woodley team sprung into action, purchasing £200 worth of toys, games, jigsaws, books, hats, gloves and scarfs which contributed towards the massive haul that Roc-Search managed to collect.
Denise Bullock, Senior Solicitor at our Woodley office commented, "We were delighted to have taken part in this worthwhile cause, it is so humbling to know that children of disadvantaged families would not be without a gift on Christmas morning".
You can find out more about the amazing work that Reading Family Aid do here: https://www.readingfamilyaid.org/
Speak with our team today
If you would like to speak with our family law professionals, please feel free to get in touch with our team using the below office details.
Please contact our family law solicitors today on 01491 630000 (Henley on Thames), 0118 418 1000 (Reading Head Office), 0118 418 1200 (Reading Central), 01256 584000 (Basingstoke), 01483 370100 (Guildford), 01494 629000 (Beaconsfield), 01344 513000 (Ascot), 01635 785 100 (Newbury), 01962 587900 (Winchester), 0204 599 7400 (Richmond) or email info@kjsmith.co.uk.
We also serve a wide range of other areas including Abingdon, Bracknell, Gerrards Cross, Maidenhead, Marlow, Oxford, Slough, Wokingham, Pangbourne, and High Wycombe.