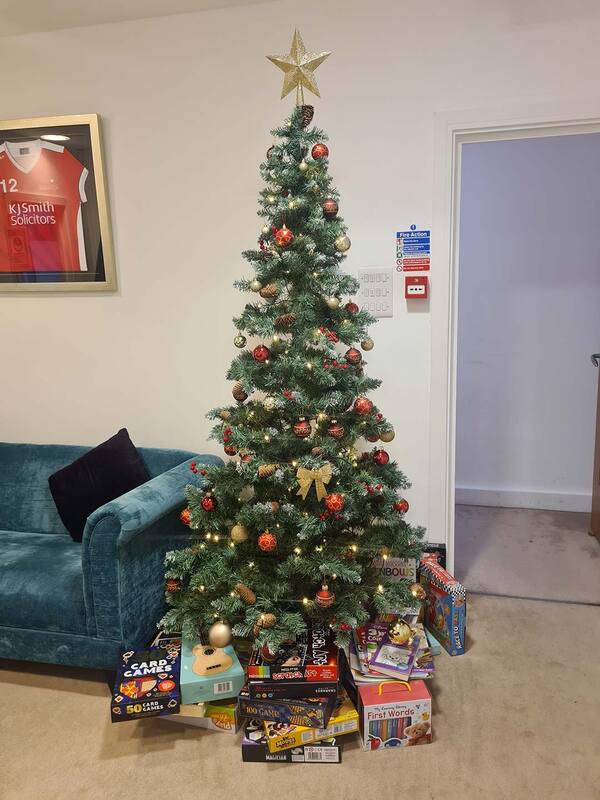 Robyn Bowyer at our Winchester Office has been working closely with the Knights Foundation, facilitating the provision of Christmas toys and vouchers to the charity in what we hope to be the first of many collaborations with the charity.
The Knights Foundation provide support and gifts to disabled children, deprived children, seriously ill children and their families. They aim to understand these children and young carers to determine how best they can support their families.
The charities ultimate aim is to build and maintain an eco-friendly, sustainable property along the South Coast which is accessible for those with restricted abilities, to enjoy stress free family holidays and have the use of a facility, free of charge to allow them to do so.
They have accomplished building one Lodge in Milford-On-Sea and so far have booked some 60 families for the year 2022 to attend and have stress free fun.
The charities supporters, their staff, trustees, patrons, donators and volunteers are passionate about making a difference and are keen to understand how they can help others who need their support and identify resources who can also help with everyday living for these people.
The trust is driven by Nicky Banger, CEO who has had first-hand experience on living with disabilities. Nicky Banger is the father of a child with a disability, his daughter Sophia who has cerebral palsy and he uses his everyday experiences to help other children with disabilities.
The charity as a whole is close to the hearts of the Winchester office. Robyn Bowyer has been working with the charity in finding the best presents for their Christmas present appeal for the younger children and vouchers for the older children who are often forgotten during Christmas.
We wish the charity the very best for 2022 and we look forward to supporting them over the years to come.
You can find out more about the amazing work the charity are doing here: https://www.theknightsfoundation.org/about-us/
Speak with our team today
If you would like to speak with our family law professionals, please feel free to get in touch with our team using the below office details.
Please contact our family law solicitors today on 01491 630000 (Henley on Thames), 0118 418 1000 (Reading Head Office), 0118 418 1200 (Reading Central), 01256 584000 (Basingstoke), 01483 370100 (Guildford), 01494 629000 (Beaconsfield), 01344 513000 (Ascot), 01635 785 100 (Newbury), 01962 587900 (Winchester), 0204 599 7400 (Richmond) or email info@kjsmith.co.uk.
We also serve a wide range of other areas including Abingdon, Bracknell, Gerrards Cross, Maidenhead, Marlow, Oxford, Slough, Wokingham, Pangbourne, and High Wycombe.