Jessica Jupp, Simone Brown and Claire Cox, all from our Henley office, visited the Chiltern Centre earlier this week to make a donation toward the Centre's Buddies Group and to see the amazing things their staff and volunteers are doing in the community.
Pictured above: Our team with Liz Deacon, Community Fundraiser for The Chiltern Centre, together with members of the Buddies Group and volunteers
Elliot Clark, Commercial Manager, commented, "It's great to have been involved with the Chiltern Centre over the last ten years. We love to do as much as we can to support them and see the amazing things they are doing."
You can read the full Henley Standard article on the following link: https://www.henleyherald.com/2020/01/15/k-j-smith-generously-donate-towards-chiltern-centres-buddies-group/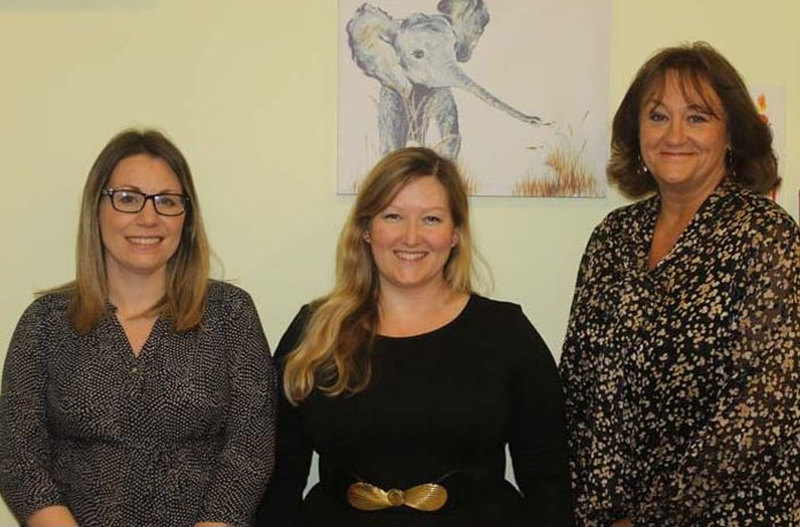 Pictured above: Simone Brown, Jessica Jupp and Claire Cox, from our Henley office
K J Smith Solicitors are recognised by the Legal 500 guide to law firms in the UK as a leading family law firm. The firm offers free 45 minute consultations and in-depth advice on all aspects of family law, including Finances and Divorce, Children and Residency, Pre and Post-Nuptial Agreements, Grandparents' Rights and Cohabitation Agreements. They also offer Estate Planning and Wealth Management services including Wills, Trusts, Probate and Powers of Attorney.
All our offices are easily accessible by road, rail or bus and we are open Monday to Friday from 8:30am to 6:00pm. With today's busy schedules, we offer telephone appointments outside normal office hours until 9pm on Thursdays and between 10am and 3pm on Saturdays. Details for all of our offices can be found on the following link: https://www.kjsmith.co.uk/our-locations