The Wills, Trusts and Probate team at K J Smith Solicitors took part in the regional Marie Curie Will Writing Scheme at the start of this year.
David Roper, Kerry Haugh and Joanna Oldman drafted a large number of wills as part of the scheme. David, who is K J Smith's Senior Private Client Solicitor commented, "It is always a pleasure to be involved in campaigns that help to raise money for charities and similar worthwhile causes. It has been great to be able to help clients get wills in place whilst at the same time supporting the excellent, vital work of Marie Curie. We very much look forward to working again with Marie Curie in the future".
You can learn more about the Marie Curie Will Writing Scheme at: www.mariecurie.org.uk.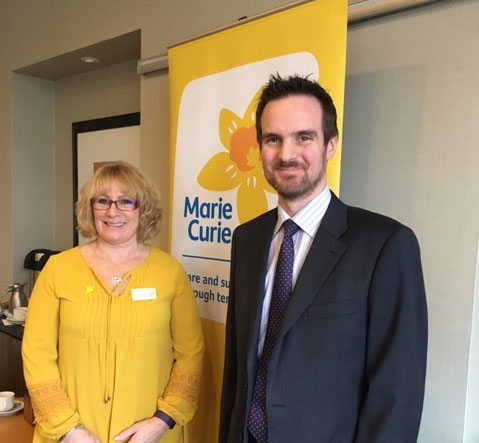 Pictured above are Toni Denyer, local legacy advisor at Marie Curie and David Roper, Senior Solicitor at K J Smith Solicitors
As well as being recognised as a top tier family law firm in the Legal 500, the leading independent referral guide for law firms in the UK, K J Smith Solicitors are also specialists in Wills, Trusts and Probate, Powers of Attorney and Deputyship Applications.
David Roper, who heads up the Private Client department, is a member of the Society of Trust and Estate Practitioners (STEP), an internationally recognised organisation whose members are specially qualified to advise on and assist with Private Client matters. David is also a member of Solicitors for the Elderly (SFE), a specialist group of lawyers who are qualified to advise elderly clients on matters of particular concern to them.