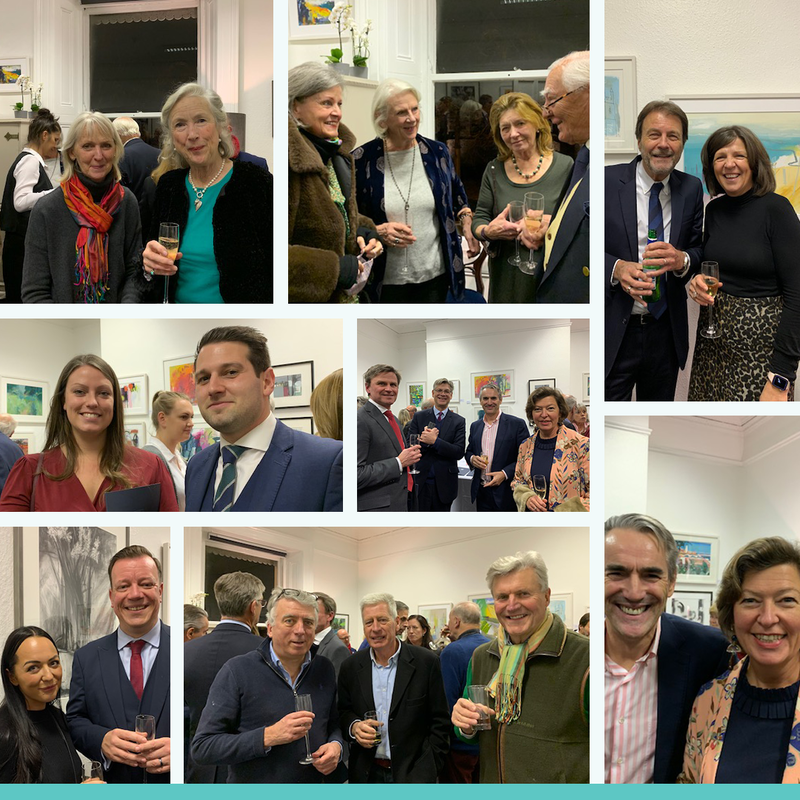 We are delighted to announce the opening of our new office in Winchester. The office, located at Southgate Chambers, is the firm's tenth with locations now in Henley on Thames, Reading (Woodley), Reading (Central), Ascot, Basingstoke, Beaconsfield, Guildford, Newbury and Richmond.
The evening started with champagne and canapés to celebrate the launch of our partnership with local art collaborative Just Four + Two Contemporary Artists and the charity Bounce Forward.
As a company, we feel it is extremely important to allow our teams to manage their own office charity budgets, allowing each office to connect with charities that may be local to their area, or close to their heart. On the evening, there was a short presentation to open the exhibition of work on display at our office and to present our charity initiative with Bounce Forward and various Winchester secondary schools.
Bounce forward are a charity dedicated to, and passionate about, resilience being the key to personal development of students. They believe that teaching resilience is essential and should be a core feature of education and they work hard to shift the narrative from a "mental health crisis" to one of empowerment and mental fitness.
At present, Bounce Forward work with a small number of schools in Hampshire, however they have plans to expand on this in order to provide the same opportunities to parents and children in the area.
Read more about Bounce Forward and the amazing work they do here: www.bounceforward.com/
Just Four + Two Contemporary Artists are a group of three painters; Jenny Hill-Norton, Anthea Stilwell and Jo Ellis who all work creatively together and exhibit with sculptor and furniture maker Craig Narramore at venues throughout the UK.
We are thrilled to exhibit their collection at our Winchester office; the works have a cohesive thread of energy and expressiveness which, together with their individuality as artists, creates a vibrant exhibition and a contemporary backdrop for our office space.
You can find out more about Just Four here: www.justfour.co.uk/
Speak with our team today
If you would like to speak with our family law professionals, please feel free to get in touch with our team using the below office details.
Please contact our family law solicitors today on 01491 630000 (Henley on Thames), 0118 418 1000 (Reading Head Office), 0118 418 1200 (Reading Central), 01256 584000 (Basingstoke), 01483 370100 (Guildford), 01494 629000 (Beaconsfield), 01344 513000 (Ascot), 01635 785 100 (Newbury), 01962 587900 (Winchester), 0204 599 7400 (Richmond) or email info@kjsmith.co.uk.
We also serve a wide range of other areas including Abingdon, Bracknell, Gerrards Cross, Maidenhead, Marlow, Oxford, Slough, Wokingham, Pangbourne, and High Wycombe.