Lasting Powers of Attorney
The Enduring Powers of Attorney of yesteryear have been replaced since 2007 with Lasting Powers of Attorney, which are a far more versatile and useful document.
Lasting Powers of Attorney exist to enable you to appoint a person or a number of people (your Attorneys) to act on your behalf if you should lose your mental capacity (that is the mental capacity to manage your own affairs).
There are two types of Lasting Power of Attorney.
Friendly and professional at all times set within a nice environment.
The first and most common type is a Property & Financial Affairs Lasting Power of Attorney. This enables your Attorney or Attorneys to do things on your behalf like pay bills, set up standing orders or direct debits, pay care fees, sell property and withdraw money from your bank account. They would also be able to handle your investments for you.
The second type is a Health & Welfare Lasting Power of Attorney, which enables your Attorney to decide where you live, the type and location of care you receive and whether to continue with or discontinue life sustaining treatment.
You might want to use the same person or the same people as Attorney for both or you might want to involve different people for each type.
You can also nominate an independent third party to be informed you are making a Lasting Power of Attorney, if you wish there to be some measure of accountability for your Attorney.
You also need to select a so-called "Certificate Provider" who will sign the Lasting Power of Attorney to confirm that you understand what you are doing and are entering into the Lasting Power of Attorney of your own free will and with a good comprehension of the implications and consequences of doing so. That Certificate Provider can be a legal advisor, medical practitioner or other close friend and if we are instructed to prepare and register a Lasting Power of Attorney for you, we would complete this section for you within our standard fee.
Some people feel like there is an implicit admission of loss of capacity in making or even discussing a Lasting Power of Attorney. This is not the case. You cannot make a Lasting Power of Attorney if you lack capacity. Making a Lasting Power of Attorney does not mean that you are losing capacity. It simply means that you are planning for the future and putting someone you trust in a position to manage your affairs for you should you be unable to manage them in the future.
You can also include guidance and limitations within your Lasting Power of Attorney, for example restricting the use of your Lasting Power of Attorney until a medical professional has certified that you are no longer able to manage your affairs. This may give you reassurance that personal decisions will not be prematurely taken out of your hands.
Lasting Powers of Attorney do not have to be registered as soon as they are prepared but our advice is that you register them once prepared. Registering allows the Office of the Public Guardian to check the document for any issues so that amends can be made. Registering also means that if you lose your capacity in the future, the document is registered and ready to be used so that your Attorney can carry out their Powers of Attorney without delay.
You can revoke a Lasting Power of Attorney provided you still have capacity. This can happen if Attorney's have themselves passed away or if you want to revise the document due to changes in your circumstances.
If you do not have a Lasting Power of Attorney in place and you lose your capacity, your financial affairs can still be managed for you by someone making a Deputyship application on your behalf. However this can be an expensive and time consuming process and does not guarantee that your affairs will be managed in the way you might have intended. For these reasons it is often preferable to put a Lasting Power of Attorney in place before you lose capacity.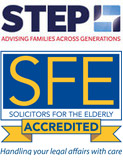 At K J Smith Solicitors, our private client team are members of the Society of Trust and Estate Practitioners (STEP), an internationally recognised organisation whose members consist of accountants and lawyers and who are specially qualified to advise on and assist with Private Client matters.
Our private client team are also members of Solicitors for the Elderly (SFE) a specialist group of lawyers who are qualified to advise more elderly clients on matters of particular concern to them.
We offer a free initial 15 minute telephone appointment to give you the opportunity to speak to us, before deciding if you wish to proceed in instructing us to act on your behalf.
Please contact K J Smith Solicitors today on 01491 630000 (Henley on Thames), 020 7070 0330 (London), 0118 418 1000 (Reading), 01753 325000 (Windsor), 01256 584000 (Basingstoke), 01483 370100 (Guildford), 01494 629000 (Beaconsfield), 01235 375500 (Abingdon) or email info@kjsmith.co.uk.
We have offices in Henley-on-Thames, London, Reading, Windsor, Basingstoke, Guildford, Beaconsfield and Abingdon but we service clients in the surrounding areas including Gerrards Cross, Maidenhead, Marlow, Oxford, Slough, Wokingham, and High Wycombe.