Deputyship Applications
If a friend or relative of yours has lost their mental capacity and does not have a Lasting Power of Attorney but needs help with the managing of their financial affairs, you may wish to consider applying to the Court of Protection for a Deputyship Order. A Deputyship Order is an order appointing a person or persons to act on behalf of an individual who has lost the capacity to manage their own affairs.
I had no doubt that they would handle my case with the upmost confidentiality and arrive at an outstanding conclusion.
The process of applying for such an order is regrettably time-consuming and complex. However we have many years' experience of acting in relation to such applications and we can help you through every step the process. We will need to obtain a medical certificate confirming the loss of capacity for the individual in question and we will then work with you to complete the various forms comprising the application.
If all proceeds smoothly, an order will be obtained from the Court of Protection appointing you as Deputy for the person in question. You will then be able to take over the management of that person's financial affairs, including paying their care fees, signing cheques, withdrawing money from their account, paying their bills, selling their home and organising their investments.
Sadly, applications do not always proceed smoothly. Sometimes there are disagreements within families over who should or should not act as Deputy and so the application to the Court of Protection becomes a contested application. Inevitably that will prolong the process but each party will have an opportunity to put forward their own position. A District Judge sitting in the Court of Protection will make a decision as to the terms of the Deputyship Order. We can act for you throughout such a process in striving to obtain terms as instructed by you.
If you have already obtained a Deputyship Order then you will be obliged to complete and file an annual report. This sets out the decisions you have made and the manner in which you have handled the money and property of the person in question. We can assist you with the completing of your annual report.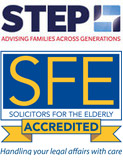 At K J Smith Solicitors, our private client team are members of the Society of Trust and Estate Practitioners (STEP), an internationally recognised organisation whose members consist of accountants and lawyers and who are specially qualified to advise on and assist with Private Client matters.
Our private client team are also members of Solicitors for the Elderly (SFE) a specialist group of lawyers who are qualified to advise more elderly clients on matters of particular concern to them.
We offer a free initial 15 minute telephone appointment to give you the opportunity to speak to us, before deciding if you wish to proceed in instructing us to act on your behalf.
Please contact K J Smith Solicitors today on 01491 630000 (Henley on Thames), 020 7070 0330 (London), 0118 418 1000 (Reading), 01753 325000 (Windsor), 01256 584000 (Basingstoke), 01483 370100 (Guildford), 01494 629000 (Beaconsfield), 01235 375500 (Abingdon) or email info@kjsmith.co.uk.
We have offices in Henley-on-Thames, London, Reading, Windsor, Basingstoke, Guildford, Beaconsfield and Abingdon but we service clients in the surrounding areas including Gerrards Cross, Maidenhead, Marlow, Oxford, Slough, Wokingham, and High Wycombe.